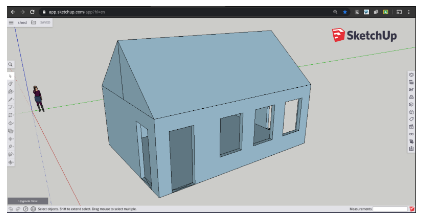 Engineering and Architectural Design Work
Christina McCue
Monday, May 18, 2020
Three students in the BRCTC Engineering & Architectural Design class are undertaking a live-work project, redesigning an addition to an existing home. Autumn Hawkes, Rebecca Barton, and Gareth Hodgdon are each using a combination of hand sketching and computer drafting programs to reimagine an existing work shed as a combination living space and woodworking shop. They are beginning the preliminary work of creating rough concept sketches, mass models, and potential floor plans.
The students are not only tasked with designing creative architectural solutions, but they are also each working from home with new computer apps and programs that they have just begun to learn as we moved to distance learning. Each week, the students have been using Google Classroom to post images of their progress, and Google Meetings to present drawings and models, and to consult with their client.
Here are some of the preliminary design work images: Sketchup model by Gareth, a floor plan by Rebecca, concept sketch by Autumn.